Issue Nine
Thanks Y'all

Sunday Night's Parties

Fashion Notes: Best Hat

Pretty Confused, After All These Years

Art, People and Chili

All Knowledge Hypothesis Founders
in Subterranean Investigation

Why Domino?

WSFS Business Completed Saturday

Remembering the Alamo in SF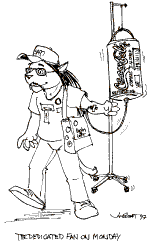 As we are wrapping up the last regular issue of the LoneStarCon2 newszine, I'd like to thank all the fans who made it possible and all the Texans who made those of us from out of town feel welcome.
The newszine staff worked long hours to publish a great zine and have fun too: Adina Adler, Kurt Baty & Scott Bobo, David Bratman, James Daugherty, Lise T. Eisenberg, Kurt Erichsen, Doug Faunt, Moshe Feder, Benoit Girard, Mike Glyer, Teresa Nielsen Hayden, Rachel Holmen, Bill Humphries, Hope Kiefer, Leslie Mann, Beth Moursund, Chris (the Magician) O'Shea, Spike Parsons, Michael Rawdon, Richard Russell, Robt Sacks, Alice Spivey, Steven Staton and Eva Whitley.
We also had a super bunch of contributors: Lorraine Anderson, Mark Bourne, Adam Ek, Alexis Gilliland, Sarah E. Goodman, Jim Groat, John Hertz, Andy Hooper, Juliebata Humphries, Evelyn C. Leeper, Don Maitz, Joe Mayhew, Ross Pavlac, Lawrence Person, Neil Rest, Ed Rush, Sherlock, Marcia Sherman, Toni Steger, Diana Thayer, Bob Webber and Leah Zeldes Smith.
The LoneStarCon2 committee and staff has been wonderfully supportive and cooperative (really!), especially: Brooks, KIM Campbell, Earl "Url" Cooley, Fred Duarte, Tom & Anita Feller, Sue Francis, Laurie Mann, Karen Meschke, Ruth Sachter, Randy Shepherd, Nina Siros, Judith Ward and Ben Yalow.
Our honcho, Teddy Harvia, is simply the best.
I'd also like to thank fellow staff member Scott Zrubek for graciously letting us have the Sherlock "Daily Zine" sign after I missed the chance to get it in the auction.
Shoutouts for the Web Version
Bill Humphries, Web 'zine producer
Thanks to Earl Cooley, the LSC2 Webmaster, for his valuable comments from the planning stages to the convention. Without him, we wouldn't have a server to post the Web 'zine on.
Michael Rawdon deserves special thanks for his reporting at the real-time Hugo awards netcast.
I'd also like to thank the committee and staff of LSC2, especially Laurie Mann, Tom Becker, James Daugherty and Teddy Harvia.