Babylon 5 Announcement
Our Last Best Hope for Seating
Rick Katze, Program Ops
The Babylon 5 Previews will be held Saturday at noon in the Grand Ballroom at the Marriott Rivercenter.
There are about 3000 seats in the room.
Jeff Walker will be doing his Film Preview at 11 AM Saturday in this room. So as not to disturb his program, access to the room may be restricted after his program begins.
We will not clear the room after the 11 AM program. Please feel free to come early, claim your seat, and enjoy Jeff's film previews. Sorry, no seats can be reserved for either program.
Autography
These authors will be signing books at the Del Rey booth in the Exhibit Hall.
Friday
	1 - 2	Jack Chalker
	3 - 4	Greg Keyes
	5 - 6	Harry Turtledove
Saturday
	11 - Noon	David Gemmell
	1 - 2	James Halpern
	3 - 4	Harry Turtledove
	5 - 6	Margaret Weis
Sunday
	11 - Noon	Allan Cole
	1 - 2	Katie Waitman
	3 - 4	Mary Doria Russell
	5 - 6	Scott Gier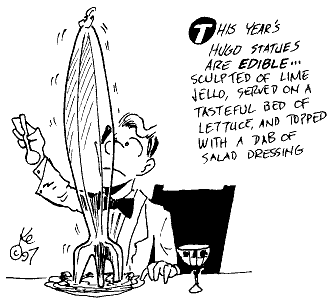 Program Updates
Friday
Regency Dancing will take place at 8 PM, Alamo Ballroom A-C, Riverwalk. Come in costume or come as you are. Instruction is not only available; it's part of the fun.
Saturday
Brad Lyau has been added to SF/F Baseball Underground (5 PM CC--River A).
John Stopa has been added to Famous Femmefans of the 1960s (3 PM CC--101).
Vince Creisler has been added to the National Space Society Forum (1 PM CC--River A).
Daryl Mallett has been added to State of the Genre: North American SF/F (2 PM CC-206).
Daryl Mallett has been added to The Editorial Slushpile (11 AM, CC--Fiesta B)
Daryl Mallett has been added to Stories that Stay in the Slushpile (1 PM CC-Fiesta A) (Who's Daryl Mallett?)
Sunday
William Barton will not appear on the Writers' Workshop 18 (4 PM Rivercenter 14)
The Jack McDevitt Meeting has been moved from 3 PM to 10 AM in CC Patio B) (Daryl Mallett has entered the building. Repeat, he has entered the building.)
Monday
Daryl Mallett has been added to Jacking In: Direct Neural Interfaces, the joy. (Monday, 10 AM CC-Fiesta A)