Kaffeeklatsches:
An Important Announcement
Due to an unfortunate pre-con screwup, more people were accepted for some of the kaffeeklatsches than there's space to accommodate. Programming has been increasing the size of some of the groups, but some of the people who had been scheduled will still have to be turned away.
If you signed up before the convention, please check the kaffeeklatsch sign-up book at the Information Desk in the Convention Center Arcade to see if you are on the list. Only people who are on the list will be admitted.
If you signed up before the convention and don't plan to attend, please take your name off the list so someone else can have your place.
Programming will be trying to schedule additional kaffeeklatsches to accommodate those who were turned away. If you're one, please check at Information to see what new events have been scheduled.
Programming is sorry for any inconvenience this has caused.
Meanwhile, a kaffeeklatsch update: Lister Matheson, the director of Clarion writers' workshops, will have a kaffeeklatsch on Saturday at 2:00 PM in the Riverwalk's Bonham Room.

Friday Program Changes
Kevin J. Anderson has been added to 20 Years of Luke, Han, Leia, and the Force (1 PM CC-River B).
Lenny Provenzano has been added to Vampire Movies: The Continuing Tradition (5 PM CC-206).
Josepha Sherman and Susan Shwartz will be autographing at 2 PM in CC-Exhibit Hall.
The Pocket Dragon Adventure Series Update will be held twice during the convention: Friday at noon and Sunday at 5 PM, both in CC-Mission.
What's Open When
Dealers' Room: Friday-Sunday, 10:00 AM - 6:00 PM; Monday, 10:00 AM - 3:00 PM.
Art Show: Thursday-Saturday, 10:00 AM - 7:00 PM; Sunday, 10:00 AM - (?); Monday, 10:00 AM - 3:00 PM. Preliminary bidding closes Saturday, 7:00 PM; auction begins Sunday, 2:30 PM. The art show will be open during the auction.
Exhibits: Thursday-Sunday 10:00 AM - 7:00 PM.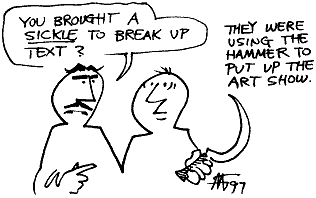 Crash the Artists Reception!
The Art Show is now officially open, with 350 panels' worth of art by more than 200 artists. Jean A. Stuntz, Art Show head, would like to thank Ted Atwood and the East Coast Floating Art Squad for making setup possible. "The Dorsai Irregulars are the official security of the Art Show. We love 'em to death."
ASFA, the Association of Science Fiction & Fantasy Artists, invites everyone to attend the Chesley Awards ceremony on Friday night, in the Centro room at the Convention Center. Fancy dress optional, 8 to 9 PM.
An artists reception will follow the awards ceremony, on Friday from 9 to 11 PM. Artists and their guests, as well as all other LoneStarCon2 members who have an art show bidder number are invited to attend. Free bid sheets will be available at the door.
Lost, Found, & Recycled
If you've lost or found something: During the day, go to the Info Desk in the Convention Center Arcade; at night, go to Conference Room #8 in the Rivercenter.
That is, unless you've lost your badge. There will be a $25 charge for replacing lost badges. If you bought your badge at the convention--i.e., if you weren't pre-registered--you must be able to provide proof of purchase to get your lost badge replaced at all.
Replacing your lost idealism, horizons, or sense of wonder will cost slightly more. Rates vary; inquire.
Signage: How-tos and Don't-dos
In the Marriott Riverwalk: Easels are being provided for signs. It's probably okay to put up signs on glass or stone surfaces in the lobby area if you're using masking tape. Repeat: masking tape only, lobby area only, glass or stone surfaces only.
In the Marriott Rivercenter: Nothing but the Giant Post-It papers may be attached to the walls. Flyers and other materials may be attached to the Giant Post-Its.
In the Convention Center: Masking tape only, on doors or stone surfaces only.
Ice is Pricey, But Liquor is Quicker
Ice will be available at $1.00 a pound for Friday, Saturday, and Sunday. Call extension 6101 in Marriott Rivercenter to order.
The closest liquor store can be found at 502 E. Houston. It's open 10 AM to 9 PM except for Sunday.
Embargoed?
The River barge charter tickets are sold out for all four days. Check at Information for news of an extra charter boat.