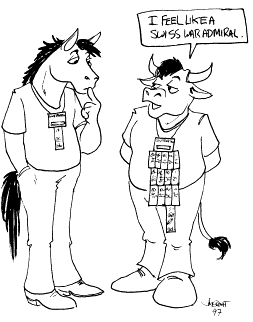 Last Dangerous Program Changes!
Rod Serling
You have entered a convention not of space or time but of the mind. You stand at the cross-roads between reality and the pocket program...
There are NO further changes to the Monday grid!
Fannish Lounge Lizards Toast
Sunday night, join us for a fond farewell to the Evening Fan Lounge: Marriott Rivercenter, third floor, Conference Room 7. A cash bar, refreshments and fannish conversation may well be provided.
During the day, we continue to present the Day Fan Lounge (CC-101), with a wide selection of fanzines and fannish ephemera on sale, including last night's Hugo-winner, Mimosa.
Top Ten Obstacles To Nova Express' Plans to Take Over the World
10. World domination plan needs $20 billion. Currently in account: $1.98
9. Nova Express is an all-Mac operation, but WorldConquest Planner only runs under Windows
8. William S. Burroughs' death means no more secret funding from the insect minds of Minurad
7. Connie Willis refuses to put subliminal (novaexpress) messages in her short fiction
6. Those damn lab mice used up all the good ideas
5. Plan to make millions off Mike Tyson licensing deal hits unforseen obstacle
4. Editor spent all the money earmarked for plutonium on hardback books
3. Bill Gates already bought up all the black market Russian ICBMs
2. ACME Corp. refuses to extend credit after Wile E. Coyote stiffed them
1. David Langford