The Second Occasional LoneStarCon Science Fiction Convention and Chili Cook-off, Variously known as the 55th World Science Fiction Convention and LoneStarCon 2, the 1997 Worldcon, To be held from August 28th through September 1st, in the year 1997, in San Antonio, Texas.
Site Credits


Warez
| | |
| --- | --- |
| | HomeSite v2.5a |
| | pop!site™ desktop 1.0D71 |
| | NetLoad 3.6d |
| | Adobe Photoshop v3.0.5 |
| | GIF Wizard |

Pix





Tiling pattern based on artwork by The Escher Group, Copyright ©1997


Arrow design by The Scriptorium, Copyright ©1997
LSC2 Alamo '97 Logo design by Earl Cooley III, based on artwork by Otto Cordray
LSC2 Banner Logo design by Earl Cooley III, based on artwork by Otto Cordray and Bill Childs

Netdudez & Webgurrrls

ebmaster & Primary Web Designer: Earl "Shiva" Cooley III

Web Research Assistance and Form & Ballot HTML Coding: A. T. Campbell III

Access Services and Press Release HTML Coding & Research: Laurie Mann

Progress Report #2 Web Design & Production by The Escher Group: Terry Sisk Graybill, Jane Jewell, Peggy Rae Pavlat and Katje Bonk Renner

Adobe Acrobat conversion of the Housing Form & Hotel Map: Rusty Orr


This site uses some Third-Generation Site Design principles, some HTML 3.2 features.


Kudoze

he success of our web site is due in large part to the many quality contributions by members of the convention committee and other friends of the convention. Now, y'all don't get swelled heads too awful much over this: just keep sending in more great articles and information to post around here!



The LoneStarCon 2 web site won its first award, as "Hot Pick of the Week" for March 5th, 1997, by Alamo-PC. Alamo-PC is a 5,000-member computer organization, run by volunteers, and is the second largest in the nation. Incorporated in January, 1983 as a 501(c)(3) non-profit organization, it is chartered to educate all interested members of the public in the use of personal computers. To quote Susan Ives, Alamo-PC webmaster, "You've done a great job of communicating a lot of information in an easy to follow format. This kind of site is the heart of what the Internet is all about!"




The LoneStarCon 2 web site was named the "Sci-Fi Site of the Week" for the week of July 14th, 1997, by Science Fiction Weekly magazine.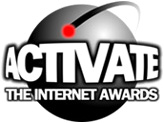 The LSC2 web site is also a part of the body of work for which the webmaster was awarded "Top 1000" status in Microsoft's Activate the Internet Awards Contest.



Legaleez

his publication is copyright ©1997 by LoneStarCon 2, a service mark of the Austin Literary Arts Maintenance Organization (ALAMO), Inc., a 501(c)(3) non-profit literary, educational corporation. All rights reserved. "World Science Fiction Society", "WSFS", "World Science Fiction Convention", "Worldcon", "NASFiC", and "Hugo Award" are registered service marks of the World Science Fiction Society, an unincorporated literary society. All artwork ©1997 by the artists and used here by permission.